3 Capitals (the full story)
In 1994 I dreamed up a challenge for myself when I decided it should be possible to visit all three countries in Great Britain and get home (West London) within the day. With this aim in mind I left London after breakfast one summer morning and headed for North Wales where I had Lunch then onto Scotland for tea and back to London for a late supper (around 800 miles).
The next year's challenge had to be even better and I figured it was just possible to visit all three capital cities, London, Cardiff, Edinburgh and back to London on the same day I had left. Just to make things more interesting I always avoid motorways and dual carriageways on my little trips whenever possible. The rules I set myself for this outing were that there should be no use of motorways at all and only minimum use of dual carriageways (46.1 miles overall with the longest sections being around Oxford on the A40 and a seven mile section of the A1, most other sections of dual carriageway used were under 2 miles long). Using Autoroute Plus along with dozens of maps I spent months planning the route to avoid any large towns where possible apart from Cardiff & Edinburgh of course. Autoroute allows the user to set the average speed for each type of road (A road, B road, Dual Carriageway etc.) in urban or non urban areas and then uses these speeds to calculate the quickest route calling at a list of places one can enter. There is also an option to choose the preferred type of road, so I set it to use A and B roads but not Motorways. It is then just a matter of tweaking the suggested route by adding places along it until a satisfactory plan is produced. At that point it is possible to print out a list of places and road names with times and mileage's. I decided I would travel as close to the 22nd of June as possible so that I would get maximum daylight, that weekend itself was too hot so the next one was chosen.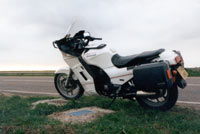 "My trusty GTR"
Thus it was that I left home in West Drayton (which for the purposes of this trip counted as London) at ten to four in the morning on Sunday the 2nd July 1995, having first woken up at 2 o'clock. I filled my Kawasaki GTR1000 with petrol and left West Drayton at 04:00 when it was still dark. I headed for Uxbridge and out along A40 through the sleeping towns of High Wycombe, etc. There was virtually no traffic at that time on a Sunday morning, most people being sensibly asleep in their beds. The main problem was the birds and rabbits along the section of the A40 between Stokenchurch and Oxford, fortunately the GTR makes enough noise and the animals all decided it was best to run back into the bushes. I reckon the rabbits cut my average speed by at least 10 MPH along this section of road. I got onto the A40 dual carriageway towards Oxford, and made up some spare time before the traffic got heavier, I hit speeds into three figures along parts of this section only slowing to avoid the rooks that were feeding on the various squashed animals in the road. I turned onto the A436 at 5:08 thus by-passing Cheltenham. Then onto the A417 towards Gloucester, coming down the hill near Birdlip at 40 MPH in the roadwork's a magpie that was standing in the road left it a little late to depart and it's wing just touched my jacket as it flew off, fortunately no harm to either me or the magpie, I guess that due to the lower than normal speed and therefore the lower than usual noise level from the bike, the bird was not alarmed early enough, my theory is that almost all the animals killed on the roads are hit by quiet cars. The sun was now rising on my right, a large red globe in the sky just before Gloucester although it had been light for nearly an hour already. At 05:25 I turned south onto the A48 towards Chepstow and the temperature hit 10 degrees for the first time. Travelling along beside the Severn Estuary was very attractive in the early morning light. The A48 is now littered with speed cameras so vigilance as always was required.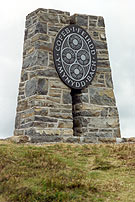 At 05:50 I passed the "Welcome to Wales" sign and from there I could see the tall white towers of the Severn Bridge on my left and Chepstow castle on the right. In Newport travelling along the A48 I either missed a sign or they disappear and change to civic centre. I got lost in the back streets around the civic centre and took at least a quarter of an hour to find the A48 again. Having got back on track I arrived in Cardiff at 06:28 (still 36 minutes ahead of schedule), one capital city down, two to go. I failed to find the A469 but took A468 instead, this must be Wales, lost twice within half an hour. Then onto the A472 towards Newbridge at 06:46, A4042 at 06:59 and left onto the A465 at 07:08. I stopped for the first refuelling stop and the first time off the bike since London (apart from a quick look at the map in Newport) at 07:20, leaving the petrol station again at 07:28. Turning left onto the A49 at 07:34 I began to encounter the car boot brigade beginning to surface around half past seven in the fields around Hereford. I stopped for a fifteen minute breakfast break at 08:31 just north of Hadnell on the A49 and set off again at 08:46, just over an hour ahead of schedule, fortunately I don't drink tea or coffee so a quick sandwich stop and a flask of water is all I need, (no "Little Chef" dependence for me). By 08:57 I was level with North Wales and turned onto the A41 to by-pass Whitchurch and then back onto the A49 towards Merseyside. At 09:39 I turned onto the A573 and then back onto the A49 at Wigan at 09:56. The A49 was then closed for roadwork's so I followed the diversion onto the B5238 to Aspull and at 10:11 turned left onto A6. The temperature hit 20 degrees for first time at 10:30, having been about 12 degrees until about ten o'clock. At 10:35 I came across the first and only major traffic jam of the day about 2 miles south of Preston on the A6, it lasted for about 5 miles, nose to tail and hardly moving, but ended at some traffic lights, seemingly caused by the weight of traffic and possibly bad phasing of the lights, maybe everyone heading for Blackpool. At 12:04 I reached Kendall stopped for the second scheduled refuelling stop of the day. Thanks to the traffic jam I was now only 12 minutes ahead of schedule. I left the petrol station again at 12:10 and arrived at Penrith on the A6 at 12:39. Just past Carlisle the A6 ends and at 13:02 I turned onto the A7, Carlisle like Uxbridge has far too many sets of traffic lights all set to catch you. At 13:18 I finally reached Scotland, 13:28 Langholm and 13:50 Hawick. Then onto the B710 at 14:12. At 14:33, about 18 miles from Edinburgh, it started drizzling but fortunately it didn't last too long. At 14:50 I arrived in Edinburgh and turned round to start heading home. The Scotts do seem to like their follies, three miles from Jedburgh on the A68 one can see follies on three separate summits from the same spot.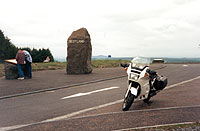 "The Border"
I left Jedburgh at 15:39 and stopped on the border at 15:52 for a late lunch break, (another 15 minutes), leaving at 16:07 (now 33 minutes ahead of schedule). The A68 is a very spectacular road and the scenery in the Border area is some of the best on the trip. Just after lunch a kamikaze shrew zipped across the road in front of the bike, its tiny little legs were going like mad until it reached safety, and the casualty score remained at zero. At 16:41 I detoured of the A68 into Corbridge for petrol, stopping at 16:44 at the garage and leaving again at 16:51 having also bought a Mars bar for some instant energy. In order that I can accurately recall all the details of a trip like this I wear a small tape dictation machine on a chord around my neck, this can be safely operated with one hand without taking my eyes off the road ahead and I can therefore keep notes of times, etc. Unfortunately I managed to slide the pause control into position when leaving the petrol station so I had no notes from this point until I next stopped for fuel in another 200 miles. The next part of the story is therefore from memory, although the route is from the print out and is therefore correct.
From Corbridge it was back onto the A68 to Darlington, then onto the A167. At Northallerton I went onto the A168 and headed for Thirsk. From there it was the A19 to York, round the inner ring road past the walls of the city and out, still on the A19, to Selby. Then onto the A1041 at about 19:00 from Selby to Snaith where I turned East onto the A614 eventually leading to Bawtry at around seven thirty, A few miles from Bawtry the A614 is no more and becomes the A1 for 7 miles, the A614 then separates from the A1 again. I followed the A614 as far as the A6097 which I used in conjunction with the A46 to by-pass Nottingham. Then it was onto the A606 at about twenty past eight towards Melton Mowbray, a beautiful summer evening fading as I approached Melton Mowbray, slightly overcast but very pleasant. I left the last scheduled refuelling stop of the trip at 20:34. Next a B road for a change, at 20:52 I turned onto the B6047 to Market Harborough (thus avoiding Leicester). Seventeen minutes early, at 21:19, I arrived at Market Harborough. I left via the B4036 at 21:22 passing through Nazeby at 21:31. I reached the A5 at 21:46 and shortly after it started raining, gently at first and then by the time I turned onto the A413 at 22:02 it was raining quite heavily. The A413 was closed further along and so I followed the diversion for miles eventually reaching Buckingham at 22:15 only nine minutes ahead of schedule now. As it was raining quite heavily and I was on familiar territory I slowed down somewhat in case my concentration was not as good as it should be.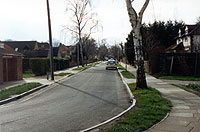 "The Last 100 yards"
I got back to West Drayton at 23:25, only 35 minutes before the absolute deadline I had set myself. A very enjoyable day but one which I have no immediate plans to repeat. Total mileage for the day was just under a thousand miles in nineteen and a half hours with two 15 minute meal breaks and four refuelling breaks of around 7 minutes. Average speed (excluding stops) was therefore about 53 MPH, pretty fast considering this was almost all on single carriageway roads, but throughout I was riding to the high standards of the IAM, including observing the speed limits, although not quite so rigorously in the national speed limited areas. The only minor scares of the day were around the Scottish borders when my front wheel hit a squashed rabbit and slid a couple of inches before gripping again and then when it was raining in the late evening again the front wheel slid a couple of inches on a wet manhole cover. I reckon that on my one day trip I visited 19 counties, (Bucks, Oxfordshire, Gloucester, Gwent, South Glamorgan, Mid Glamorgan, Hereford& Worcester, Shropshire, Cheshire, Lancashire, Cumbria, Borders, Lothian, Northumberland, Durham, North Yorkshire, Notts, Leicestershire& Northants).
It was like a week's holiday in one day!