Fellow Middlesex Advanced member Alex Eggert rang me in early May 2000 to ask if I was interested in an attempt on the Bun Burner Gold later that year. At first I was not too sure but eventually decided it would be fun to be the first person in the UK to achieve this award. Due to other commitments for the date that Alex had set I decided to go it alone. Thankfully Alex had done a lot of planning and was kind enough to share his notes.
His ride was scheduled to start early on a Saturday morning but on taking some advice from Dr Reynor (a sleep deprivation expert) I was persuaded to start in the late afternoon - the theory being that one remains alert during the night (perfectly true as it happened). The other advantage was that I would gain maximum daylight by travelling North in the evening.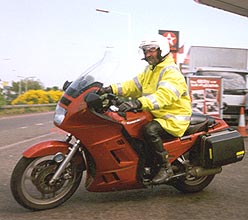 "Setting off from Northolt"
I arrived at Northolt at around three-thirty to meet up with the guys who were signing me out - to qualify for the Iron Butt Award you have to be signed off by a policeman, fireman or other responsible person. I got myself geared up ready to fill up - this is the last thing to do before leaving as the receipt is used as evidence to show the time of departure.
Fortunately there was a major football game going on that evening and the roads were much emptier than usual. My friend Diederik Khonhorst had elected to ride with me for the first 50 or so miles and we set off along the A40 towards Birmingham. I knew I had to keep up a good average whilst not wearing myself out. I had my trusty GPS on the dash and a large sheet with instructions in my tank bag map case so that I would not have to stop to check maps. Preparation had included using Autoroute 2000 to check the entrance and exit roads to the Service areas I was going to use. This proved invaluable as one service area was over a mile away from the motorway! Needless to say I found an alternative.
I reached Inverness over an hour ahead of schedule but things got trickier coming south again. The weather deteriorated and it got really foggy for a while. I was down to less than 30MPH for quite a few miles which wrecked my average, but I was not willing to take risks. If necessary I could always try again another day.
The fog did eventually clear and I carried on down the M6 - until I reached some roadworks and a diversion! Many miles along the A6 at 40MPH. Fortunately it was just coming up to 04:00 in the morning and traffic was very light. Just to make life more difficult the M5 was also closed for roadworks just before Bristol. I had taken the precaution of checking for roadworks and had been told that the M5 would be closed at night only - I was a little ahead of schedule though so it was off along the A-road towards Weston-Super-Mare which probably delayed me by 20 minutes. The benefits of having made good progress at the start were now showing up.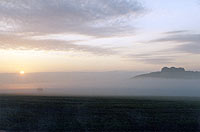 "Early morning mist"
Once back on the M5 I set off for the A30 and Penzance where I was still an hour ahead of schedule. For the first time on the trip I started to feel a little tired whilst making my way back up towards the M5 so I stopped for a short rest. Amazingly I felt much better after only 10 minutes lying down so I set off again albeit at a much lower pace now. The traffic started to get much heavier from this point on and progress was much harder. Ironically I think the lower speeds also helped to make me feel more tired - I guess because my body was not producing the same levels of adrenalin when travelling slowly. I stopped again for a longer rest on the M4 at Leigh Delamere knowing that I could easily get back to Heston in the almost four hours I had left.
The last part of the journey along the M4 was pretty boring but it got me there on time. Just 22 hours and 2 minutes since leaving. I filled up again in order to get my petrol receipt and then set off for Uxbridge police Station to get signed back in again.
Was I glad I did it? - Yes! Would I do it again? - Probably not (but then again you never know)