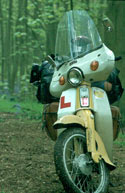 "My first motorbike"
Honda C70 - 1978 :-

Some years later I had obtained my first motorbike (I use the term loosely). It was a Honda C70. In May 1978 I got the urge to retrace my steps and as I only had two weeks holiday I left my bicycle at home and set off on my fully loaded C70 (see photos on left) - this time I decided to camp. I managed a fairly measly 2865.4 miles during my holiday but still had a brilliant time. I even took the C70 off tarmac in Scotland travelling along General Wade's military road for about 20 miles (photos at bottom on left). At one point on the West coast of Scotland I came across a huge bull that refused to move so I sat and waited for 15 minutes (see photo top left). I visited many of the places I had been to eight years earlier.
Towards the end of the trip I decided to head straight for home. As I was in North West Scotland at the time I set up my first real long distance record. I rode from near Lochinver around the coast and then South to West London without an overnight stop - a total of over 750 miles in one day! It took just over 27 hours. This cured me for a while and my personal best remained untouched for almost 15 years. Whilst you may not imagine the Honda C70 to be the ideal touring motorcycle you should reconsider - the top speed is low so you do get to see the scenery, the fuel consumption is also low (over 120 mpg).
To read about a similarly mad person take a look at www.mission-implausible.org.uk - One man's quest to achieve something worthwhile by doing something faintly ridiculous...
Progress:
After wearing out several Honda step-throughs (Honda C70 and later Honda C90) I was finally persuaded by my brother to try a "real" bike and purchased a Honda CB250 - no stopping me now! A year later I traded it in for a Kawasaki GT550 I kept this for about a year as well and swapped it for a Kawasaki GTR1000 - the ideal bike for me - I have now had six GTR1000s click here to see why.